Face masks are one of those pampering beauty products that unfortunately we don't always have enough hours in the day to treat ourselves with, but when we do we absolutely adore the results! With softer, smoother more glowing skin that is less red and just generally looks fresher and healthier, most face masks can do wonders and many of them are really reasonably priced too, meaning you skip the expensive facials in favour of some pampering at home.
From peel off masks (we've all seen those hilarious videos of OTT beauty bloggers attempting to peel them off), to exfoliating ones and ones that intensively moisturise, whatever your skin needs you'll be able to find the right mask that will leave it looking its absolute best. We love pampering ourselves more than ever before and luckily this means that beauty product manufacturers have really stepped up to the mark with a huge range of face mask products that will suit any skin type as well as any budget. If you think your skin could do with a bit of TLC, then we've picked out favourite 3 beauty masks that will leave your skin glowing and you feeling great.
Black mineral face masks have been simply everywhere for the last year or two and they promise to rid you of those pesky black heads which are just so irritating! They are also pretty fun to use so there is that too. This pore penetrating black mineral mask is from a brand you can really trust, Avon and incredibly its regular price is an incredibly low £5! Unlike other black mineral masks, this is not a peel-off one which means it is a bit gentler on the skin; it works by absorbing excess oils and unclogging pores. Once the mask has tried and turned from black to grey, you can wash it off to reveal glowing skin.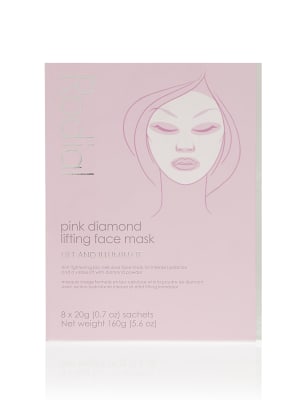 If you want to seriously pamper your skin and money is simply not important in this quest, then you can really splurge with this Rodial Pink Diamond Mask which is available from Marks & Spencer and costs an eye-watering £85! This incredible mask firms skin whilst also smoothing out wrinkles and also promises to give you a radiant glow at the same time thanks to the diamond powder contained within it. With vitamin C to brighten and even out your skin tone, this mask really does promise to do it all.
Sometimes, actually pretty often we don't fancy spending much on something that is either going to get peeled or washed off and that means a one-off face mask packet is the ideal choice for you. For a bargain basement offering that will still do the trick, this summery fruit sorbet face mask sachet from Superdrug smell delicious, will leave your skin soft, smooth and squeaky clean, and is a complete bargain at just 49p. With other options in their face mask range that cost between 49p and 99p, you can afford to treat yourself as much as you like!