Summer is the time when you should be letting your skin breathe a little, and there is nothing quite like a soft sun-kissed glow to have you looking in the peach of health. One thing it is not the time for though is for heavy make-up that will weigh down your skin and have you looking hot and bothered as your make-up turns greasy and begins to melt on those dreamy summer days. So the key for your skin in the summertime is to look fresh-faced.
Even if you are a complete beauty addict, there will still be days when you should try to embrace a more natural and laid-back style, and it is true that you should let your skin breathe every now and then. A lot of people however have confidence issues when it comes to showing their skin, so we are here to help make sure that it is looking in tip top condition whether you are wearing make-up or not. These days there are so many products out there to help calm and enhance skin and remember that wearing heavy make-up everyday won't do it any good either! For our favourite products to help give you that fresh-faced look, read on!
One of the most important things that you can do for your skin is to make sure that you always remove your make-up before you go to bed. And actually, if possible, remove it as soon as you get home and know you won't be going out anymore. We prefer to use handy all in one make-up wipes that will remove any last traces of makeup all in one go, and the great thing is that there are so many brands that you can always find one that suits you and your budget. We recommend Johnson's Make Up Be Gone Pampering Wipes which cost just £3.05 for a pack of 25 and which will even remove waterproof mascara!
If you are pretty much only wearing sunscreen and minimal makeup already, then forget the make-up wipes and instead choose one of the oldest products in the book, rose water toner. This gentle and non-irritating cleanser and toner will leave your skin looking dewy, fresh and soft without the need for harsh chemicals. Avon has a great one that is really reasonably priced and which will do the job perfectly and at a minimal price. It usually costs just £3.50 for 150ml but there are often deals so look out for them to grab a bargain.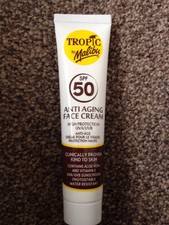 Whilst in summer we do want our skin to look fresh, we also want it to be protected from those harsh and aging rays, so it is important that you invest in a high SPF sunscreen that will also protect you from UVA and UVB rays. For a handy product that doesn't cost the earth and that will fit in your handbag too, choose Tropic by Malibu Anti-Aging Face Cream SPF50. Costing around £3 it is light and offers great moisturising properties too.